Which leisure-saving Husky tractor
is the right one for you?
There are three Bolens Husky tractor models-one thats; just right for your particular yard-care needs.

Bolens Husky 1050 is designed to care for the largest lawn, park areas and country-sized gardens. Engeneered to meet specifications for full time grounds maintenance and powered by a 10-hp engine, the Husky 1050 can cruise at over 500 feet per minute with a three-gang mower in tow.

Bolens Husky 850 is ideal for rear-round residential yard-care. With an 81/4 hp engine, the Husky 850 has enough power to build and level a steep terrace or cut a deep snowdrift down to size. Yet it's maneuverable and light handling --- moves in and out of tight spots with ease.

Bolens Husky 650 is a moderately-priced compact tractor offering most of the features found in the two larger models. A four reason performer, the 6 hp Husky 650 powers the full range of Bolens fast-switch attachments. Includes, as standard equipment, Bolens exclusive Fast-Switch Power-lock Hitch (for changing powered attachments in minutes) and Bolens PTO (no belt) drive for positive power to attachments at all times.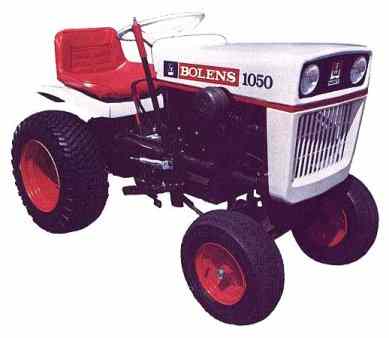 Bolens Husky 1050
(standard electric starting)
SPECIFICATION
Model 192. ENGINE--Wisconsin, Starting: Electric, push button, Horsepower: 10-hp@3800 RPM. Type: 4-cycle, single cylinder, air cooled, Governor: Mechanical, Fuel Capacity: 5 qt. Oil Capacity: 2 qt. Air Cleaner: Heavy Duty dry type. DRIVE---Geared transmission and controlled differential (Transaxle). SPEED---6 forward and 2 reverse speeds. Lowest Speed: less than 3/4 mph. Hign: 6 mph. POWER TO ATTACHMENTS --- Farm tractor type (PTO) direct drive splined shaft with universal joint couplings. TIRES --- Extra-wide Terra-Tires. Front: 16x6.50-8, Rear: 23x8.50-12 with lawn and garden tread. DIMENSIONS --- Height: 40 in, Width: 34 in, Length: 62 1/2 in. Wheelbase:42 1/2 in. Turning Radius: 40 in. Ground Clearance: 7 in. min. SHIPPING WEIGHT --- 640 lbs. STANDARD EQUIPMENT --- PTO assembly, controlled differential, parking brake, electric starting, tool box, fenders, seat cushion and back rest.