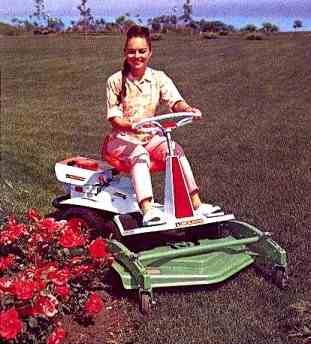 A riding mower with Estate Keeper maneuverability Here's a riding mower others can't follow. Like the Estate Keeper, the Bolens Lawn Keeper has Center-Pivot steering. Turn the steering wheel and it bends at the waist. The more you turn, the more it bends until it reaches its minimum turning radius; a mere 16 inches. Scated upfront for a clean, unobstructed view, you steer the mowing attachment, aim it where you want to mow. You twist through the most challenging obstacles with ease, cut square corners and pivot around trees and shrubs to eliminate hand trimming. Front wheels track rear wheels exactly; no shortcutting on turns. Forward and reverse speeds in two ranges give up to 264 feet of travel per minute.

32-INCH ROTARY MOWER ATTACHMENT rides ahead of front wheels. Mows evenly before wheels have a chance to press grass down. Cuts a full 32-in. swath by eliminating the conventional overlap cutting of previous swath. Mowing height adjusts from 1 1/2 to 3 inches.
(A) ATTACHMENT SAFETY CLUTCH Start and stop power to mower from Lawn Keeper seat. Conveniently located lever latches in On or Off position with a touch.

(B) GEARED TRANSMISSION AND DIFFERENTIAL Provides positive drive. Two speed ranges to 3 mph. Differential prevents rear wheels from scuffing on even the shortest turns.
UTILITY CART with release latch for one hand dumping. 7 cubic foot capacity. Pneumatic tires. All-steel body construction. Cart is 41 1/2 long, 26" wide, 12" deep.
SPECIFICATIONS:
LAWN KEEPER Model 911 with Easy Spin starting. ENGINE 6-hp Lawson, 4-cycle. SPEED-Forward and reverse in two ranges. Low speed range from 0 to 2 mph. High speed range from 0 to 3 mph. DRIVE - Spur and bevel gear transmission and differential. POWER TO ATTACHMENT - Power-Take-Off (PTO) sheave, 1 belt drives attachment from sheave. TURNING RADIUS 16 inches. STEERING gear-type (7 to I ratio). TIRES-12x5.6 pneumatic with lawn and garden tread, front and rear.