Engine
Wisconsin - Electric starting, 8-1/4 HP @ 3600 RPM, 4 cycle -
Type
Single cylinder air cooled
Fuel Capacity
5 quarts
Oil Capacity
2 pints
Air Cleaner
(See Engine Manual)
Drive
Geared transmission and controlled differential (Transaxle)
Speed (all speeds are approximative
3 forward and 1 reverse in two ranges for a total of 6 forward and 2 reverse Lowest speed: less than 3/4 mph Highest speed: 6 mph
Power to Attachments
Farm tractor type (PTO) direct drive with universal joints and splined shaft
Tires
Front: 4.00 - 8, Rear: 8 x 8.50 -12
Height
40 inches
Width
34 inches
Length
62 1/2 inches
Wheelbase
42 1/2 inches
Turning Radius
40 inches
Ground Clearance
7 inches
Shipping Weight
550 pounds
Standard Equipment
PTO assembly, controlled differential, two speed ranges with flip lever
control, fenders and seat cushion
Engine Model, Type, and Code No.
Wisconsin Engine, top front of engine.
Tractor Model and Serial No.
On tractor frame by Clutch Brake pedal.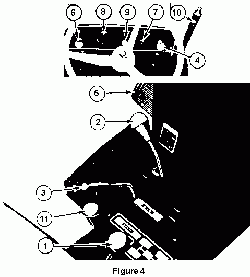 4. THROTTLE - Turn knob counterclockwise to unlock. Pull out to increase engine speed, push in to decrease. Turn knob clockwise to lock at desired RPM.
NOTE
Do not operate tractor below half throttle for prolonged periods of time under load.
5. CLUTCH-BRAKE PEDAL - To shift gears, depress clutch pedal fully. This disengages the clutch, and fully applies brake. Relax brake tension slightly, and shift gears.
CAUTION
Never allow gears to clash while shifting. Hasty shifting may result in gear grinding, premature gear failure and void warranty on transmission.
INSTRUMENTS AND CONTROLS
For efficient operation of the tractor, study the accompanying illustrations (Figure 4), together with the brief descriptions given here, until you are thoroughly familiar with the location and function of each control.

1. GEAR SHIFT LEVER - 3 speeds ahead, 1 in reverse. See instructions on page 5.
2. TWO SPEED RANGE LEVER - Provides a total of 6 speeds ahead, 2 in reverse from less than 3/4 mph to 6 mph. See instructions on page 5.
3. PTO (POWER TAKE OFF) CLUTCH - Always be sure to lock lever in slots provided when P.T.O. is engaged or disengaged.

6. CHOKE - When starting engine, pull knob out to close the choke, pushing knob gradually in as engine warms up. A warm engine requires less choke when starting.
7. IGNITION KEY - STARTING SWITCH - Insert key and turn clockwise to energize the ignition circuit. Turn key slightly past the "Ignition On" point, against spring tension, to actuate the starter. See instructions on pages 4 and 5.
CAUTION
DO NOT ACTUATE ELECTRIC STARTER FOR MORE THAN 30 SECONDS AT ONE TIME. ALLOW AT LEAST TWO MINUTES BETWEEN STARTING ATTEMPTS.
8. AMMETER - Indicates level of charge or discharge to or from the battery.