PREVENTATIVE MAINTENANCE
ENGINE
A separate book, prepared by the engine manufacturer, is supplied with your HUSKY tractor, giving detailed instruction on operation and maintenance of the engine. It is recommended that the engine book be studied thoroughly and its instructions carefully carried out since proper care of the engine is vital to the efficient operation and long life of your HUSKY tractor.


above or below pressures given here can damage tires.

TIRE
SIZE
PRESSURE (lbs./sq. in.)

FRONT

REAR

4.00 x 8

8 x 8.50-12

12 PSI

8 PSI
ADJUSTMENTS

BELT REPLACEMENT AND ADJUSTMENT (See Figure 9)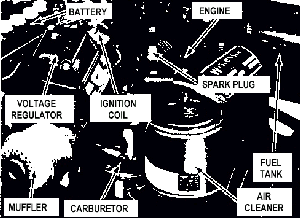 TO REMOVE PTO BELT
1. Loosen belt guides from PTO support and remove PTO belt from pulley.

2. Loosen the two capscrews (A) that hold the belt guide to the engine - just enough to swing guides away from the engine pulley.

3. Move speed range lever half-way between low and high range so that belt tightener does not contact belt.

4. Remove the drive belts from the engine pulley.
5. Remove the PTO belt.

To install PTO belt, reverse the above procedure. Be sure all parts removed are replaced in their original position.
BATTERY

Keep cables and terminals clean and apply a light coat of vaseline or oil for protection. Check battery bracket for corrosion and keep clean. Check level of battery water. Refer to Battery Tag.

Should it become necessary to remove the battery, when reinstalling it:

1. Place battery clamps flat side towards battery.
2. Hold down rods in notches of battery lugs.
3. Tighten wing nuts FINGER TIGHT ONLY to avoid possible damage to battery case.

SPARK PLUG
Remove ail dirt and trash from around spark plug before removing plug. The correct gap setting is .025 inch. Refer to separate enclosed Engine booklet for replacement specifications.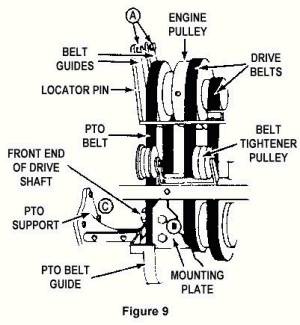 FUEL TANK
Fill with clean, fresh gasoline of regular grade. DO NOT MIX OIL WITH GASOLINE! Check to see that vent hole in fuel tank cap is not plugged.

AIR CLEANER
Refer to your separate enclosed Engine booklet for instructions. Keep air cleaner clean at all tines.

PNEUMATIC TIRE PRESSURES
Maintain pressure in tires as recommended here. Check pressures with a low pressure gauge having one-pound graduations. Operating with pressures
TO REMOVE DRIVE BELTS

1. Follow steps 1. 2, and 3 listed above.

2. Remove nut and washers from front end of drive shaft. (To keep drive shat from turning while removing nut, held it with a wrench across T bar welded to back end of drive shaft.)

3. Remove the four capscrews (B) and washers that hold bearing support to mounting plate assembly.

4. Remove bearing support by sliding it off front end of drive shaft.

5. Remove drive belts.