3. Again depress CLUTCH-BRAKE pedal approximately two-thirds to release clutch plate (DECLUTCHED POSITION).

4. Adjust input shaft drum brake shoe shown in Figure 11, to contact drum (to stop input shaft).

NOTE
REGULARLY LUBRICATE ALL BRAKE LINKAGES TO INSURE FREE ACTION.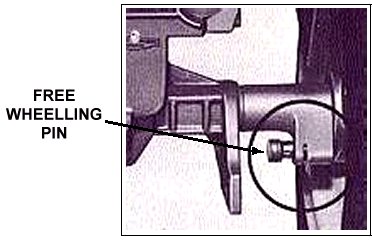 PARKING BRAKE
Always apply Parking Brake whenever leaving tractor unattended or on inclines. Do Not operate tractor with Parking Brake on.

Always use Main Brake when shifting on inclines.

SEAT ADJUSTMENT
To adjust seat, remove two nuts from beneath tractor seat and reposition in other holes provided. Replace nuts and tighten to secure seat in new position.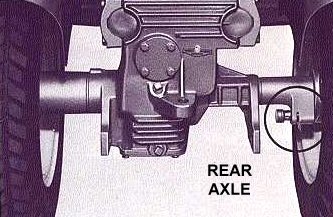 FREE WHEELING
Free wheeling pin is located on the inside hub of the right rear wheel. Pull pin out for free wheeling or push into socket for normal operation, securing pin in either position with spring cotter provided.

CAUTION
Free wheeling is provided solely for maneuvering tractor by hand on level ground. DO NOT USE FREE WHEELING ON SLOPING GROUND because brake is inoperable when in free wheeling'.
Figure 12
tight. Temporarily install cotter pin and turn wheels to determine if differential gears are binding. Continue this L.H. procedure until a slight binding is detected. At this point back off castle nut to first cotter pin hole and lock castle nut permanently with cotter key. IMPORTANT: This L.H. adjustment must be performed first.

3. Then proceed with R.H. castle nut adjustment, to eliminate all end play. Recheck for excessive binding before locking R.H. castle nut with cotter pin.

NOTE
When making this axle end play adjustment, DO NOT USE A WRENCH.
NOTE
In order to free wheel the tractor, it is necessary to disengage the controlled differential by turning the knob counterclockwise. DO NOT ATTEMPT TO TOW VEHICLE OVER 5 MPH. To tow unit must be in free wheeling.

REAR AXLE END PLAY
The rear axle may develop end play which should be corrected. Check approximately every 50 hours of operation and adjust if necessary.

ADJUSTMENT PROCEDURE FOR REAR AXLE END PLAY
With both rear wheels off the ground:

1. Remove cotter pin and loosen R.H. castellated at several turns.

2. Remove cotter pin from L.H. castle nut (under posi-traction hand wheel), and turn castle nut hand.